WHY I RELAY / IN MEMORY OF AMY HUFFAKER
I Relay to remember my wife Amy Huffaker who passed away from Ovarian Cancer in 2015. I Relay to show support to others who are dealing with Cancer and honor those who have passed. I relay to promote BRCA awareness. I Relay to help people understand the importance of knowing family history of Cancer and the elevated risks. I Relay to rally and support the caregivers that stand by their loved ones going through cancer. I Relay because I know my daughter is BRCA positive and has an elevated risk of Ovarian Cancer. I Relay to contribute and support research in hopes of finding a cure. And I relay to help advance technology to improve early detection as well treatment options for those affected by Cancer. That's why I relay. I will never stop Relaying. Relaying is my life.
Read Amy's story here: In Memory of Amy Huffaker
RELAY FOR LIFE SPONSOR
In 2018, I sponsored four (4) Relay for Life events (Three in Arizona and one in our home town in Southeast Idaho). In 2019, my business ventures have limited what I have been able to commit to, however I sponsored two (2) events, one in Flagstaff and one in Prescott Valley, Arizona in early 2019.  Relay for Life has become one of the largest nationwide events that honors and remembers those who have been lost to any type of cancer, supports and encourages those currently fighting cancer, and promoting awareness and hope for a cure.
Through my involvement with Relay for Life, and in conjunction with marketing for my Network and Internet Security business, I actively promote BRCA Awareness and Ovarian Cancer Awareness. BRCA is a genetic mutation that is hereditary and drastically increases the chance of Breast and Ovarian Cancer. The key to a successful fight against Ovarian Cancer is catching it early, knowing the symptoms, knowing family history, and being vigilant in understanding changes in the body that may be early symptoms of the disease.
RELAY SCHEDULE
Due to Covid-19 Cancellations there are currently no scheduled events at this time.
TBD
Possible events in Michigan to be announced…
Historically, ovarian cancer was called the "silent killer" because symptoms were not thought to develop until the chance of cure was poor. However, recent studies have shown this term is untrue and that the following symptoms are much more likely to occur in women with ovarian cancer than women in the general population. These symptoms include:
Bloating

Pelvic and Abdominal Pain

Difficulty eating or feeling full quickly

Urinary symptoms (urgency or frequency)

Family History of Breast or Ovarian Cancer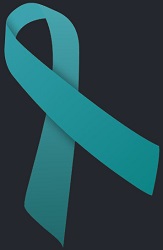 Women with ovarian cancer report that symptoms are persistent and represent a change from normal for their bodies. The frequency and/or number of such symptoms are key factors in the diagnosis of ovarian cancer. Several studies show that even early stage Ovarian Cancer can produce these symptoms.
Women who have these symptoms almost daily for more than a few weeks should see their doctor, preferably a gynecologist. Prompt medical evaluation may lead to detection at the earliest possible stage of the disease. Early stage diagnosis is associated with an improved prognosis.
During Amy's treatment, she was tested and confirmed BRCA1 Positive. Her sister had previously died of Breast Cancer in 2008, and it was later discovered that she did have extensive family history of the cancer. Prior to her diagnosis, this was not widely known or discussed. One of Amy's aunts passed away from Ovarian Cancer, and her Grandmother passed away from Breast Cancer.
My point is this: Amy had extensive family history of Female Cancers, yet I was completely unaware of this fact until after her diagnosis. Even had I known, I'm not sure if I would have known that it increased her risk or that we needed to do anything differently. Looking back, we would likely have taken a completely different approach when Amy started experiencing symptoms.
Computer, Network, and Internet Security Expert
Marvin Huffaker provides comprehensive computer, network, and internet security solutions to businesses. Explore this site to learn more about Marvin's offerings built on security best practices and customized to fit your specific business needs. Whether you're struggling with your current network security, you've had a data breach, you can't find qualified experts in your area, or you want to just start over, Marvin is highly qualified, responsive expert with years of experience.
Phoenix Metro
Marvin is based out of Phoenix. He provides security solutions onsite and remotely as business needs require. For a detailed list of offerings check out the main Network Security page.
Northern Arizona
Marvin visits Northern Arizona frequently for business and recreation. Learn more about his network and Internet security offerings here: Northern Arizona.
Southeast Michigan
Marvin owns the Clinton Inn, located just 20 minutes southwest of Ann Arbor and spends a great amount of time in the area. Marvin is able to provide enterprise level services not typically available in smaller cities.
USA or Globally
Marvin built his business around remote solution delivery, and has worked with customers throughout the United States and Globally for almost 20 years. Solutions are provided remotely, or on-site service can be arranged if your business requires it.